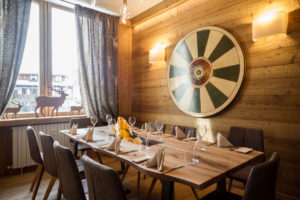 La Tavola Rotonda moves to the main road in a wider space.
Warm mountain atmosphere, the perfect choice for both a romantic dinner and a cheer meal with family and friends, enjoying high quality dishes.  We're open for lunch and dinner.
Complimentary kids' play area in the basement and a further room for parties / celebrations upon reservation.
Menu à la carte: meat dishes, some fish suggestions and vegetarian choice. Meat /fish menu: a nice tasting with a glass of wine. Homemade pasta and desserts. Wide wine list with a selection of champagne.
via Medail 58 A